Building Community | Housing more students than ever, sustainably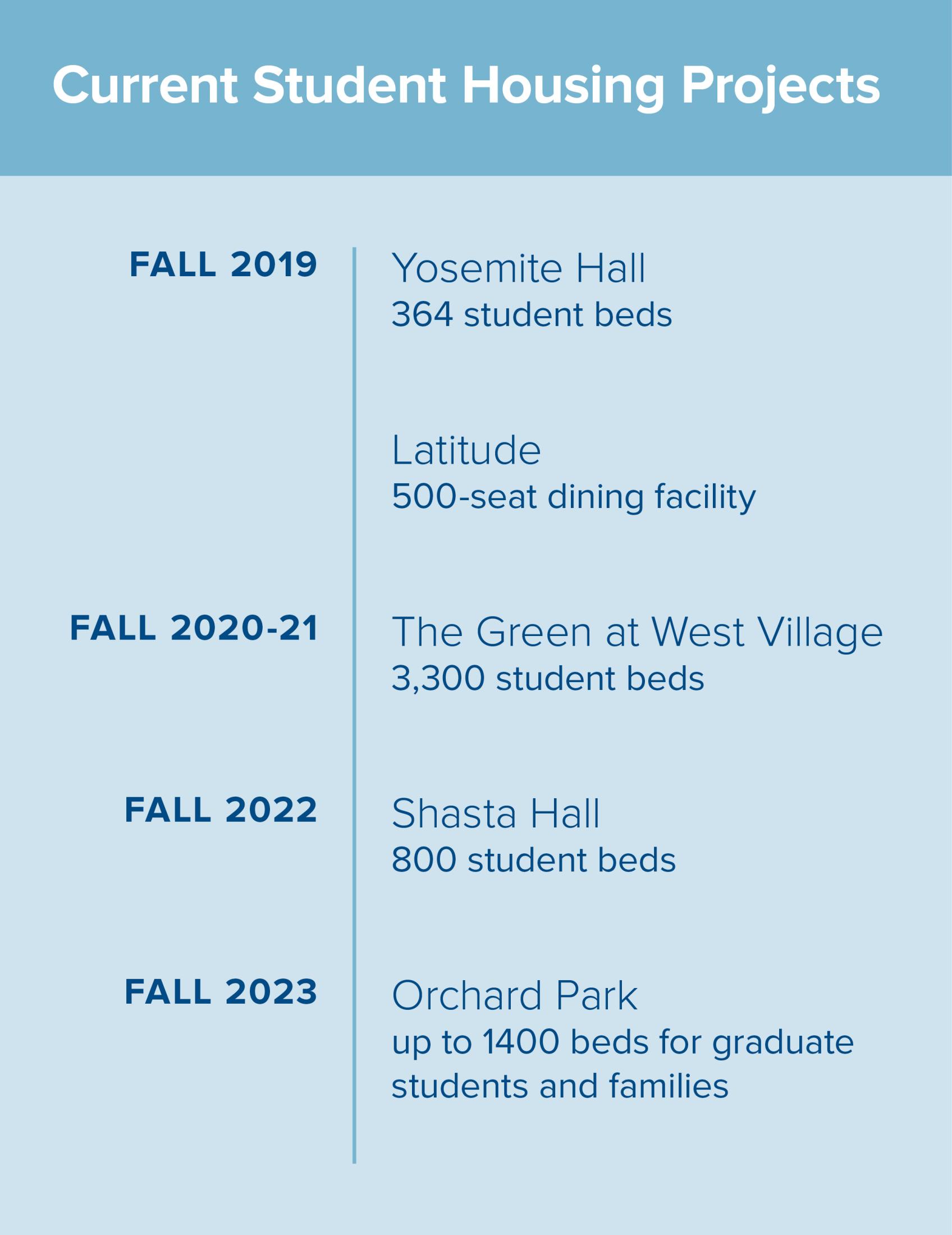 The most ambitious student housing development plan in UC Davis history is underway right now. As UC Davis grows its student population, the campus has also committed to house even higher percentages of students than in the past.
Rooms for a total of 6,180 additional beds for UC Davis students are either under construction now, just completed, or in planning phases. This includes new Yosemite and Shasta residence halls, The Green apartments at West Village and Orchard Park housing redevelopment. In total, the campus has committed to housing an additional 9,050 students by 2030.
"Our 2018 development plan calls for nearly doubling the number of students we house on campus—that's ambitious," said Lucas Griffith, director of campus planning for UC Davis.
One part of this ambitious project, The Green at West Village, is also the largest public-private partnership in the country ($580 million), when it comes to student housing.
"The concept of a project being constructed like this—bringing on 3,300 beds in less than 2 years at The Green—is staggering," said Jim Carroll, university architect and associate vice chancellor in charge of Design and Construction Management. "It takes a whole lot of planning and collaboration at every level to pull off a project of this size and complexity."
Expanding the campus housing guarantee
Adding to the complexity is a statewide housing crisis in California, with rental vacancy rates routinely below 1 percent in the city of Davis and high housing prices making it difficult to find an affordable place to live.
UC Davis currently guarantees housing for all first-year students and transfer students, with about 92 percent of freshman students and 32 percent of first-year transfer students choosing to live on campus last fall.
"When students are looking at campuses, one of the questions they typically ask is: So you're guaranteeing housing my freshman year, but what are my options for sophomore year?" said Mike Sheehan, associate vice chancellor for Student Housing and Dining Services. "With all this new construction, we'll be able to extend our housing guarantee to second-year students and to continuing transfer students."
Though the apartment projects are using a nonprofit public-private model, the student rental agreements, marketing and educational programming will be provided by UC Davis—making the connection to campus feel even stronger.
"From a student experience standpoint, it will be invisible to them that this is technically a public-private partnership," Sheehan said. "They will feel like they're in UC Davis student housing."
Construction efficiency aims for affordable housing
One of the main ways to keep new campus housing as affordable as possible for students is via efficiencies in the construction process. Carroll explained that a pre-fabricated panel system, where panels are built off-site and shipped to Davis, means the housing can be built faster with lower costs and a higher quality final product.
For Yosemite and Shasta halls, the panelization process meant that four-story, wood-framed buildings could be replaced with four- and five-story, metal framing—increasing housing density and the structure's longevity. With nine buildings under construction at The Green, repetition between adjacent, similar buildings can actually speed up the construction process, to open the first three buildings in Fall 2020.
On-campus living means more than beds
Constructing buildings is one component of housing thousands more students on campus, along with figuring out what land can be used, what streets and paths will be needed, and capacities for water, sewer and safety.
"We often count housing in 'beds' for students. Beyond beds, we also have to provide the resources for students to live here—classrooms, labs, dining commons," Sheehan said. In fact, a new dining facility, Latitude, is scheduled to open in Fall 2019.
Sheehan had a chance visit the new Yosemite Hall as students were moving in, enjoying its natural lighting and finding spaces to hang out.
"Every time we open up a new building it is great to see the reactions during move-in. But on the last day of the academic year when they're ready to leave and go home—it's all about the people and relationships they developed," Sheehan said. "The building space is the tool that provides the canvas for community development all year."
In Yosemite and Shasta halls, student concerns about privacy and community are reflected in new mini-suites, where two bedrooms share a bathroom and each floor has multiple public living rooms where students can mingle more freely.
Live where you study, sustainably
California's concept of "sustainable communities" goes beyond this housing project's aims of LEED certification and zero net energy, with an aim to reduce long commutes and help more Californians to live where they work—or study.
"The great benefit of us creating all this housing is that you're more likely to spend more time on campus, to be engaged more in your academic efforts, to attend athletic events and go to museums, to be a more engaged student," Griffith said.
And the benefits don't stop with improving the student experience. For example, Griffith pointed out that 95 percent of students living on campus walk, bike and bus to school—which means less air pollution and 10,000 fewer parking spaces needed on campus for student commuters. Increasing housing density also offers tradeoffs, and plans for The Green and Orchard Park call for balancing density with green spaces.
"We are planning to accommodate more students on less land," Griffith said. "This will preserve some of this area's prime agricultural land, while also creating a place with a little more urban vibrancy and sociability."
Primary Category
Tags