Construction During COVID-19
Construction During COVID-19
This article is featured in DCM's Winter 2021 Capital Project Report. Download the full report here. Browse the projects featured in the report online. 
While the ghost town our campus has been for the last 10 months reminds us of the devastation caused by COVID-19, construction and planning for future projects have carried on. The inside joke that UCD stands for "Under Construction Daily" has not changed in spite of the pandemic, but how the work gets done while keeping our community and contractors safe has.
Maintaining Worksite Compliance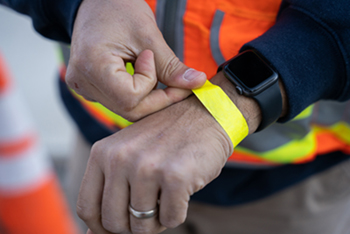 When Gov. Gavin Newsom's original shelter-in-place order was issued on March 18, 2020, construction projects were exempt as long as the work was carried out in conformance with public health guidelines. On campus, contractors are responsible for initiating their own safety measures, which vary by worksite. 
"Our project managers and inspectors have done a great job communicating the state, county and university health requirements with our onsite contractors," said Jim Carroll, associate vice chancellor and university architect.
"Some projects have been more complex than others, but overall, the contracting community has been very responsive to the challenges presented by the COVID-19 pandemic."
All of our contractors take a symptom survey each work day, but others, as a result of the project size and other considerations, go a step further. For example, at the Teaching and Learning Center, DPR's construction workers are required to check in upon arrival to ensure they are symptom-free before receiving a daily-updated wristband. 
In addition, DCM now contracts with the Police Department to employ students (Aggie Hosts) who monitor worksites in close proximity to our campus community for compliance with COVID-19 precautions. 
"While they are not enforcing any rules," said Michael Hiett, DCM senior construction administrator. "Just having them out there, observing and reporting, helps encourage and improve adherence to public health safety measures."
In addition, contractors and other vendors, are eligible to participate in "Healthy Davis Together," a university and City of Davis initiative that offers free testing to those who live or work here.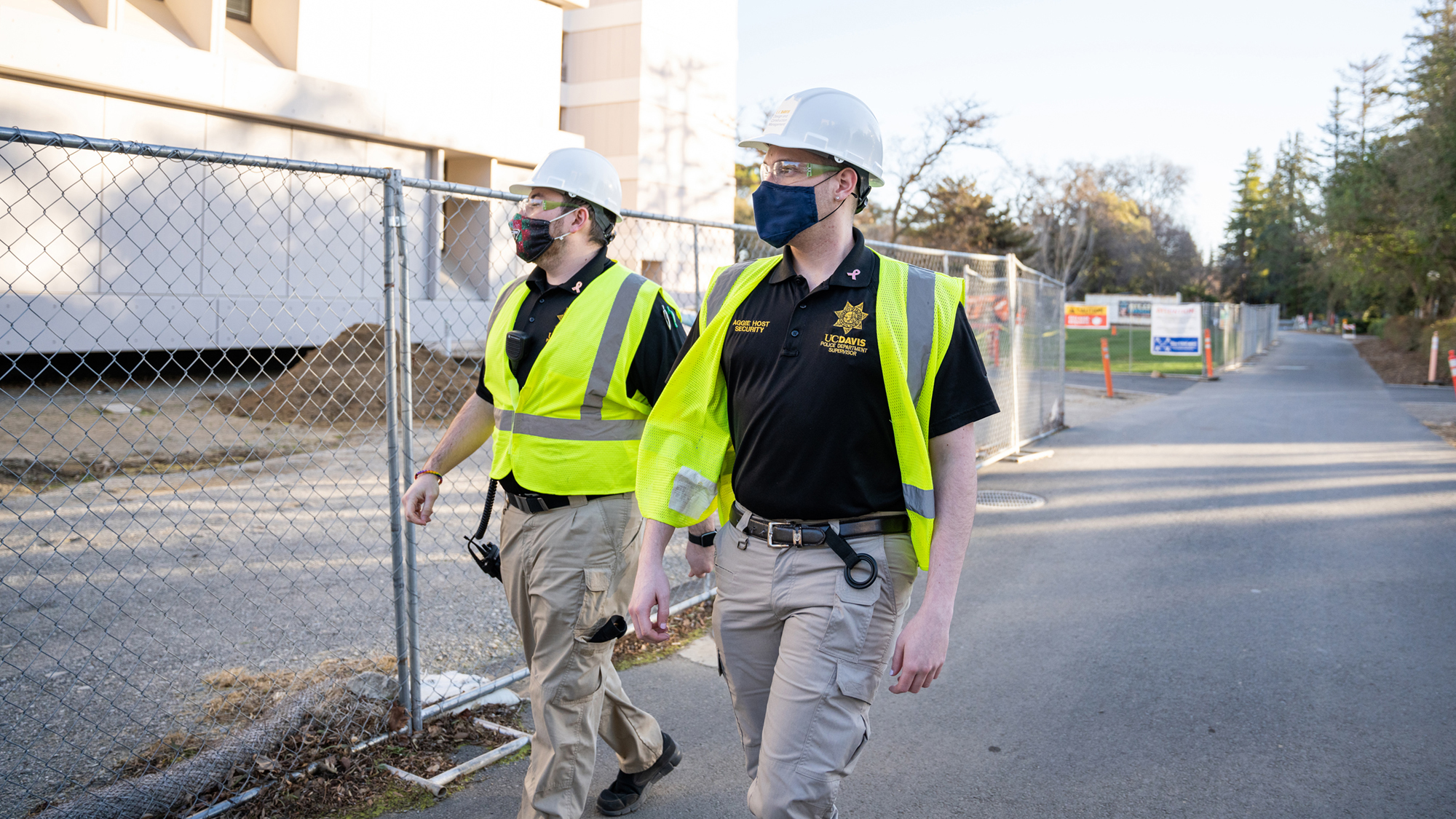 Taking Advantage of Technology
While operating safely continues to mean following the public health guidelines – maintaining 6 feet physical distancing, frequent hand washing, hand sanitizer use and face coverings – the biggest change, for both contractors and DCM staff, came with now ubiquitous remote teleworking tools. 
"As contractors, we need to focus on minimizing the number of people on site," said Aaron Schwartz, project manager for DPR Construction. "Face-to-face interactions with our clients have drastically decreased, but we've adapted by utilizing a variety of online collaboration tools." 
From pandemic-popularized Zoom and Bluebeam to universally used Facetime and text messaged photos, problems are solved, communication continues and projects move forward.
"Now it's as if we've been doing this forever," said Dan Golde, DCM project manager for the Big Shift. "While the never-ending workflow can be exhausting, efficiencies are created just by eliminating the need to get to and from project sites and meetings." 
The Benefits of a Limited Population
Construction on a mostly vacant campus has its benefits, the best of which is inconveniencing far fewer people with detours related to updating and expanding our underground infrastructure. During this unprecedented time, DCM is doing its best to make sure the campus community avoids the worst of the Big Shift – the project that literally lays the groundwork for ultimately reducing our campus's reliance on fossil fuels.
"The hope is that by the time in-person classes resume more broadly, a large portion of the infrastructure needed throughout central campus will be complete," said Carroll. "While it is an important project and a tremendous step forward for UC Davis' carbon-neutrality goals, not routing thousands around the obstacles necessary to create it is good too."
In addition, DCM completed a large-scale, water line expansion and bike path improvement project on west campus and has another massive traffic, bike and pedestrian interchange improvement project occurring on Hutchison at Highway 113. 
"Contractors and DCM staff can focus on construction versus detours and logistics," said Greg Partch, DCM's Real Estate Services associate director and project manager for The Green at West Village. "We wish the circumstances were different, but we're doing our best to make the most of a tough situation."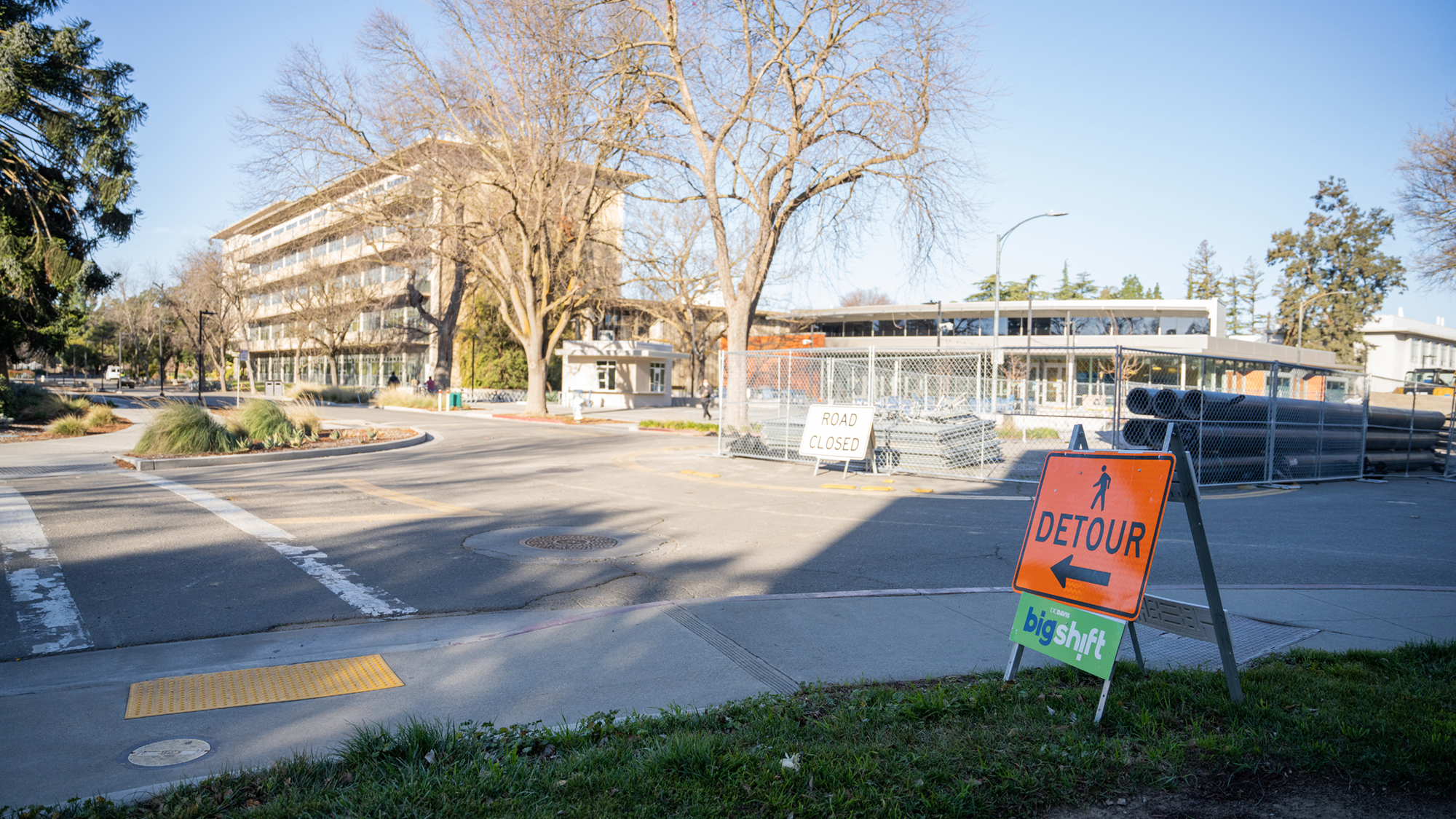 Safety in the Built Environment
Over the last 10 months, our campus adapted to the challenges presented by the coronavirus and the ever-changing guidelines. For those whose work and education required their presence on campus facilities, DCM played a crucial role in facilitating our community's gradual return to campus via the office configuration guidance found on the Campus Ready website. These valuable tools for worksite planners include a sample office configuration, tips for staggering employee schedules, best practices for break rooms, face coverings while in cubicles and much more. Visit campusready.ucdavis.edu for more information. 
Evaluating Future Space Needs
In addition to managing our current and future construction needs of our campus, the team is also looking at ways to better utilize the existing campus space. With the coronavirus vaccination rollout on the horizon, and as our campus begins to plan for a possible return to campus this fall, members of DCM's Space Management and Project Development team are going to be evaluating how our community uses space both on and off campus. 
"There are tons of questions to answer; space evaluation is just one part," said Kim Turner, director of space management and project development. "Can we take the best of what we've learned from this unplanned experiment and, together with others across campus, determine whether remote work environments can save space, provide budget relief, improve our greenhouse gas emissions and more."
Have questions about this article? Email us at ask.dcm@ucdavis.edu
Primary Category
Tags