Past, Present and Future of On-Campus Housing
The opening of Orchard Park this fall marks the completion of a five-year push by UC Davis, the city of Davis and Yolo County to improve housing availability and affordability. This accomplishment was made possible by the collaboration between Design and Construction Management, or DCM; Student Housing and Dining Services, or SHDS; and Campus Planning and Environmental Stewardship, or CPES to create residence halls and apartments that serve students, prioritize sustainability, and take advantage of evolving construction methodology. 
In 2018, UC Davis, the city of Davis and Yolo County entered into a memorandum of understanding, or MOU, that served as a supplement to the Long Range Development Plan published earlier that year. The MOU included goals to build more housing for students and a guarantee to house 100 percent of any new student enrollment growth on campus. As laid out in the Joint Housing Report published earlier this year, UC Davis has met and exceeded the projected milestones. 
"Back in 2018 we said we took a hundred years to accommodate 9,000-plus students on campus, and in our last five years we've accommodated over 6,000 additional [students]," said Lucas Griffith, interim assistant vice chancellor of CPES.
Mike Sheehan, associate vice chancellor for housing, dining and divisional operations, emphasized the group effort behind this unprecedented achievement.
"The work done to bring on-line over 6,000 beds within the past 5 years has truly been a team effort. This accomplishment is a testament to the collaborative environment of UC Davis," Sheehan said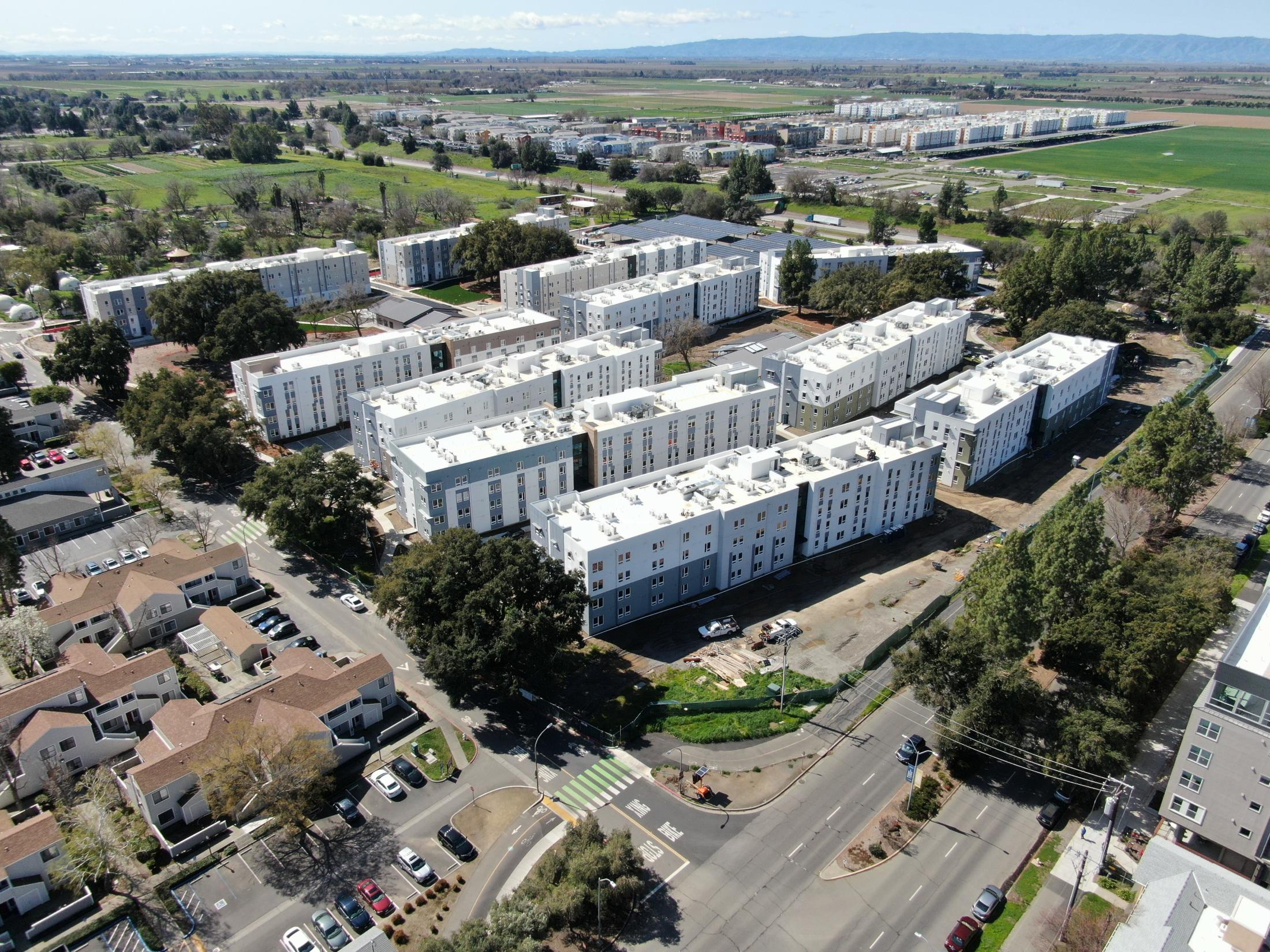 The thousands of additional beds added in the last several years are spread across multiple housing developments. Since 2017, over 900 net new residence hall beds were added through the replacement of Leach Hall with Tercero 4, the replacement of Webster Hall with Yosemite Hall and replacement of Emerson Hall with Shasta Hall. The university also underwent the largest expansion of campus apartments in its history with the construction of The Green at West Village and the Orchard Park Redevelopment Project, together adding approximately 4,800 beds serving undergraduate students, incoming transfer students, graduate students and students with families. 
The recent campus projects not only added new beds to campus, but embodied longstanding ideals SHDS and its partners approach every housing project with.  
"The architectural design values and principles have remained consistent over the years; be efficient with design achieving the best value, foster community development and be in alignment with our sustainable building standards," Sheehan said.
These tenets are reflected in the construction of The Green and Orchard Park which used a cost-efficient, off-site, pre-fabricated structural system that contributed to lower rental rates for the properties. Additionally, the new residence halls and apartment buildings were designed as all electric to avoid reliance on fossil fuels and The Green is on track to be net-zero energy.
As DCM, SHDS and CPES continue to collaborate toward the next goal – to house 48% of the Davis-based students on campus – the same "values and principles" will guide the design of future housing developments.
The next housing expansion in the pipeline is the addition of a residence hall to the Segundo area, expected to break ground in 2025 and open in Fall 2027 to serve 400-600 students. The housing development, located just south of Primero Grove will represent a preliminary step toward the future redevelopment of the Regan complex.
"While planning for this project, we're looking forward," said Julie Nola, executive director of capital projects at DCM. "Regan won't be there forever. We're laying out utility corridors, paths of travel, and building services, all with the future redevelopment in mind."
There are other intricacies in planning for the Segundo infill project. Since it is centrally located on campus, there are other construction projects to coordinate with, notably the Big Shift, a sustainable infrastructure project that will be active in the Regan area during the construction timeline. In addition to these complications, there are considerations that are present in every housing project like optimizing the size and layout of bedroom, community and support spaces; meeting and exceeding accessibility standards; and optimizing energy and water sustainability. These design decisions are informed by knowledge gained from past projects, like Yosemite Hall and Orchard Park.
"We are constantly learning from past projects and our partners at Design and Construction Management do an excellent job capturing lessons-learned for future projects," Sheehan said.
 The new residence hall will incorporate a novel type of community space to accommodate changing technologies.
"One space type that is developing is private space for online interactions ... [via] tools such as Teams and Zoom, allowing students to have personal advising and counseling online," Sheehan said. "This space type is still under development, but one option is telephone-booth like stalls, which have been implemented in airports."
In addition to the Segundo Infill project, there have been preliminary discussions of an expansion to West Village, location and size of project are currently being worked through.
A different type of housing project that is also in the works is the demolition of Solano Park. This project encompasses the removal of 60-year-old housing, while making room for potential access to future student housing. 
"With its decades old wood framing and aging mechanical and electrical systems it's been a long time coming," Nola said of the demolition, set to begin in 2024. The stage has been set for the demolition with the completion of Orchard Park, which more than makes up for the housing capacity lost in Solano Park.
Once Solano Park is demolished, the site could accommodate a road and overpass — pending approval by the campus and city of Davis and compliance with the California Environmental Quality Act — constructed over the nearby railroad to connect the campus to a parcel of land that will house private student housing known as The Promenade.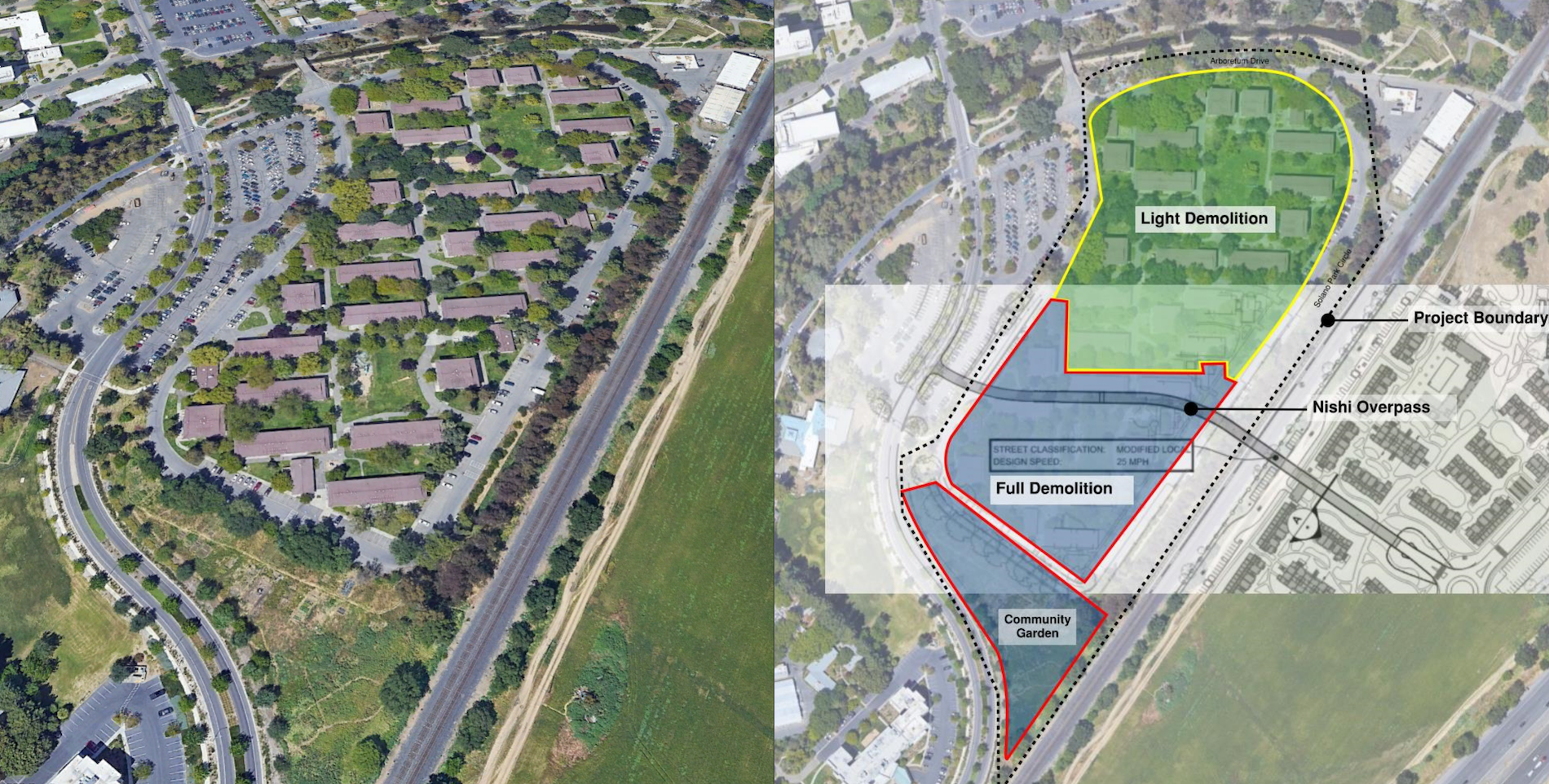 Solano Park is located on culturally sensitive land. UC Davis has been working closely with representatives of local tribes to determine the best, least disruptive approach to this project. Tribal representatives are also important partners in evaluating the future use of the land.
Sheehan shared excitement about these and other future housing projects.
"I am immensely proud to be a member of the UC Davis community.  We have a long-standing reputation within the UC as being a collaborative campus," Sheehan said. "I look forward to the continued growth and development of our program." 
Primary Category