Building Excellence
UC Davis' innovative facilities made possible by philanthropic support
In the past two decades, philanthropic support has played a vital role in funding the construction of state-of-the-art facilities that support UC Davis' objectives, including providing students with a world-class education and supporting impactful cutting-edge research.
"As other types of funding have become less consistent over the past decade and a half, philanthropic supporters have filled in the gaps, allowing the university to continue the execution of innovative new facilities," said Jim Carroll, university architect and associate vice chancellor of Design and Construction Management.
From the development of the Gateway District – including the construction of the Mondavi Center, the Manetti Shrem Museum and Gallagher Hall – to the recent completion of the Edwards Family Athletics Center, the Diane Bryant Engineering Student Design Center, the Howard Gateway donated by the Class of 1968 and the upcoming construction of the Resnick Agricultural Innovation Center, new buildings supported by donor gifts are transforming our campus.
"There's a community of people, including many alumni, that are eager to give back to UC Davis," said Shaun Keister, vice chancellor for Development and Alumni Relations, or DEVAR. "There's a myth that donors just want to see their names on the side of a building, but really, they're passionate by what's happening inside the building."
Creating a gateway to UC Davis
This passion has been evident since the first donor-funded facilities were constructed to form the Gateway District.
"It started with a vision of a new front door for campus," said Bob Segar, associate vice chancellor of Campus Planning and Environmental Stewardship. The development of this new entryway to UC Davis started with the Walter A. Buehler Alumni Center. It was the first building on campus named for a donor and also the first project Segar worked on at UC Davis. According to Segar, this project generated interest and excitement from other donors to fund similar projects.
"When people give at that level it ripples. One thing creates excitement for the next" Segar said. "It communicates that there's people supporting UC Davis and its vision."
This support has resulted in exceptional facilities, including the Robert Mondavi Institute for Wine and Food Science, the Ann E. Pitzer Center, Maurice J. Gallagher Jr. Hall, Robert and Margrit Mondavi Center for the Performing Arts, and the Jan Shrem and Maria Manetti Shrem Musuem of Art.
Each of these facilities were made possible because the "vision of UC Davis and the vision and passion of the supporters matched," according to Segar.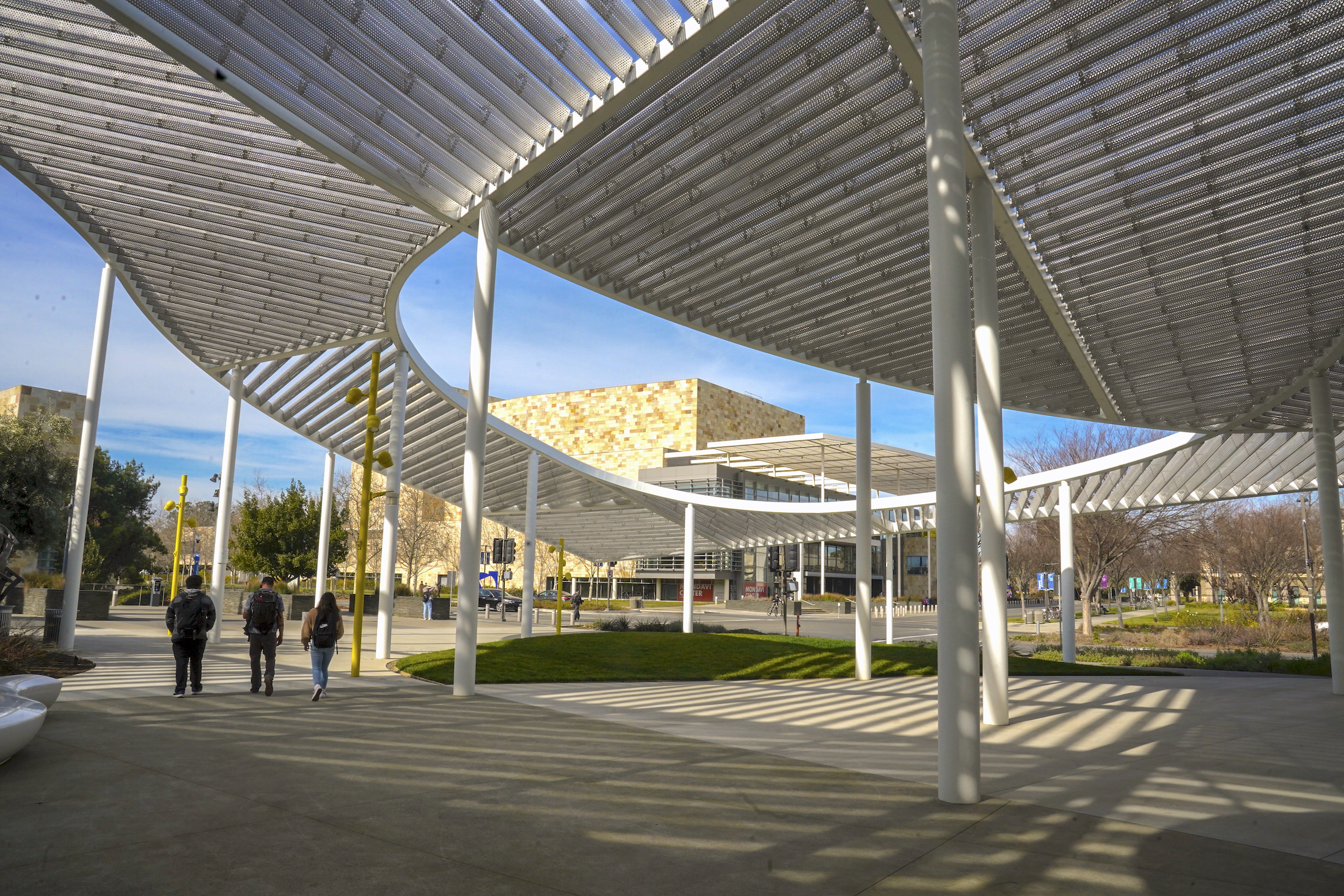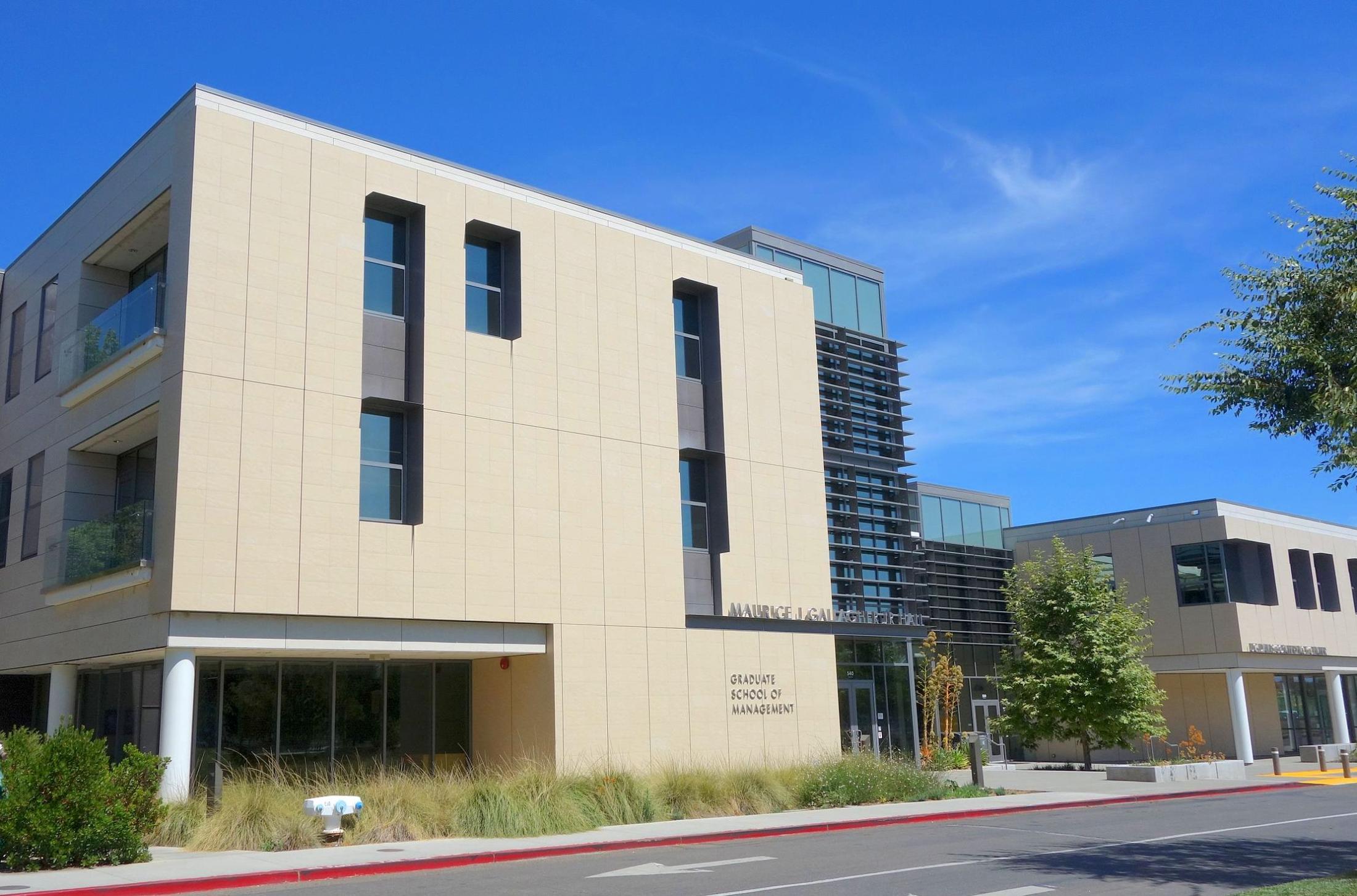 Segar shared some examples of how these stars aligned. Robert and Margrit Mondavi were excited to support the construction of a new center for the performing arts because Margrit had a lifelong passion for the arts. She immediately embraced the vision of former Chancellor Vanderhoef for a new arts district to include a performance hall, recital halls and a museum. Margrit even brought Jan Shrem and Maria Manetti Shrem — who went on to become lead donors for the art museum — into the conversation of developing this vision.
In the case of Gallagher Hall, the university had plans for a modest building for the Graduate School of Management. Maurice Gallagher — who completed his undergraduate degree at UC Davis and went on to become majority owner, president and CEO of the Allegiant Travel Company — supported the project to the tune of $10 million, elevating the facility and the graduate program. Gallagher hoped to give back after his time at the university and take the MBA program to an "elite tier" by supporting the construction of a "world-class facility," according to a UC Davis news article.
"With the support of donors, UC Davis has been able to construct facilities to a higher level of excellence," Segar said, "I think some of these buildings still wouldn't exist if it wasn't for philanthropic support."
Through these generous gifts, the university has been able to develop tremendous facilities that allow the university to put its best foot forward.
Elevating engineering design education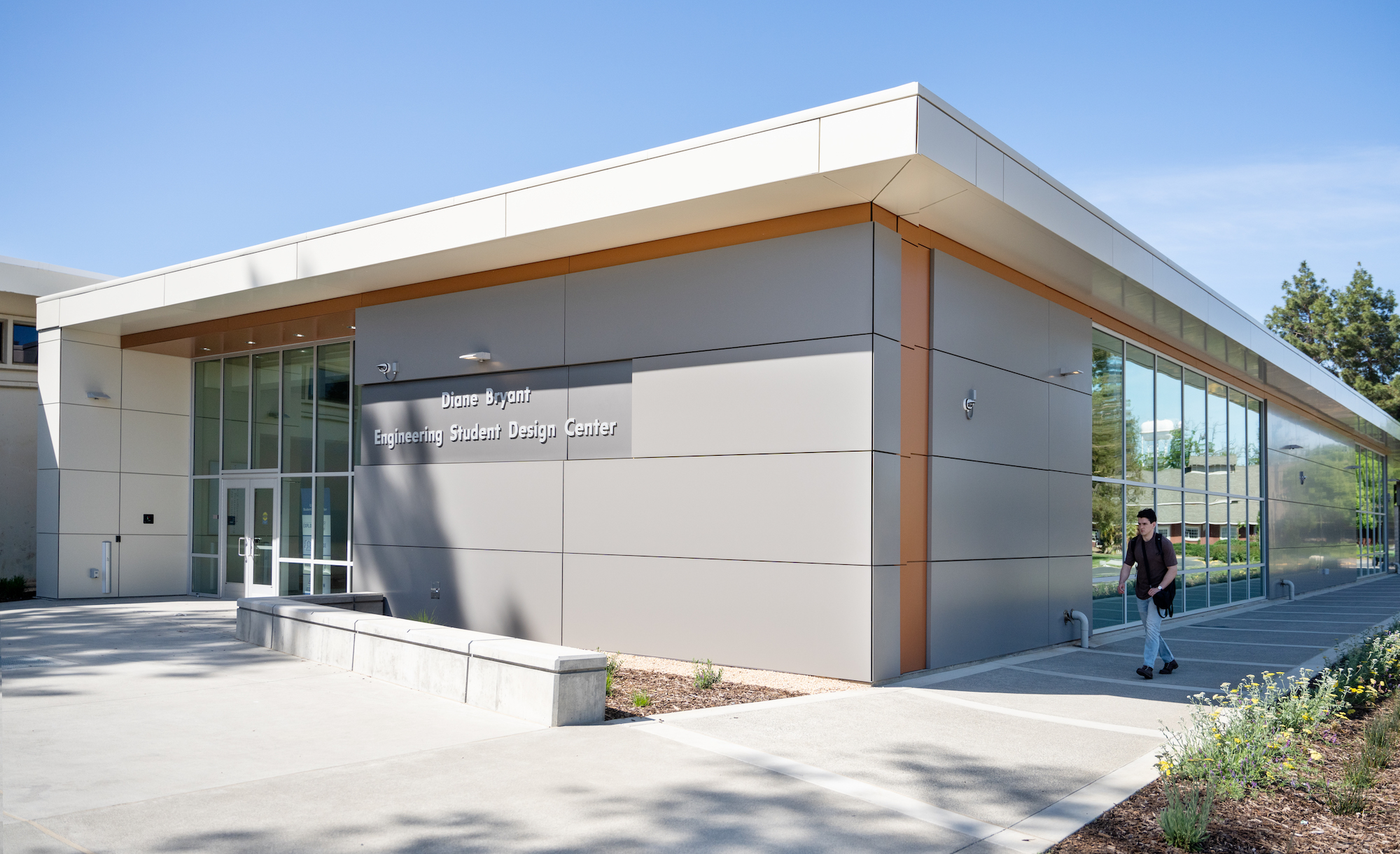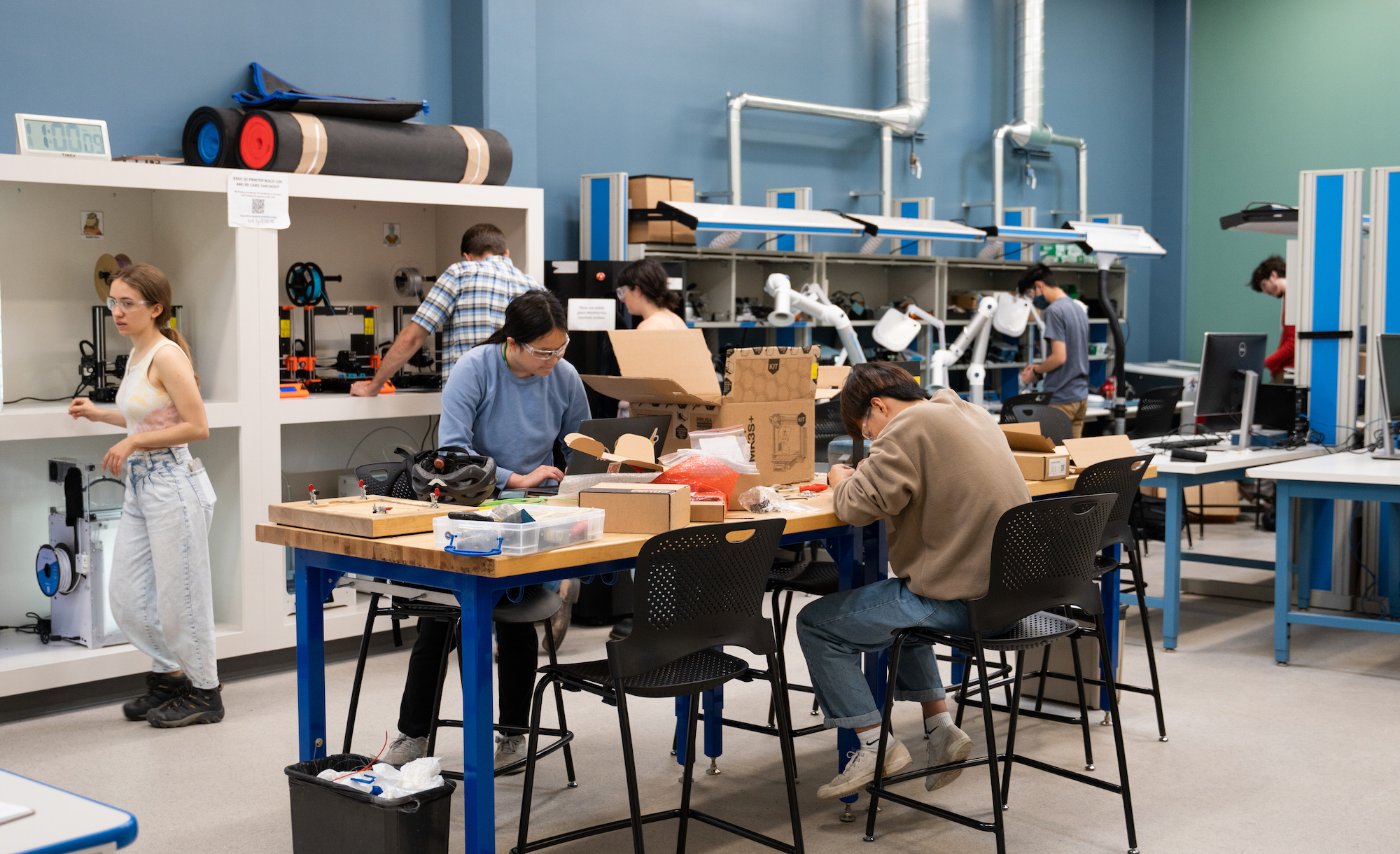 The generosity of donors expands beyond the Gateway District and can be seen in recently completed and ongoing projects.
In an effort to expand its design education opportunities, the College of Engineering sought donors to help fund a student design center that could support a variety of activities from welding to 3D printing. Diane Bryant, who graduated from UC Davis with a Bachelor of Science degree in electrical and computer engineering, stepped up as a champion of the project, donating $6.5 million. "My hope is the Engineering Student Design Center provides a visual reminder that everyone can succeed in the field of technology," Bryant said in a UC Davis article. "I hope my gift helps to expand the population of students interested in exploring the possibilities of STEM."
The state-of-the-art design center opened May 5, 2023 and is providing students invaluable, hands-on experience with cutting-edge design and fabrication technologies.
Supporting student athletes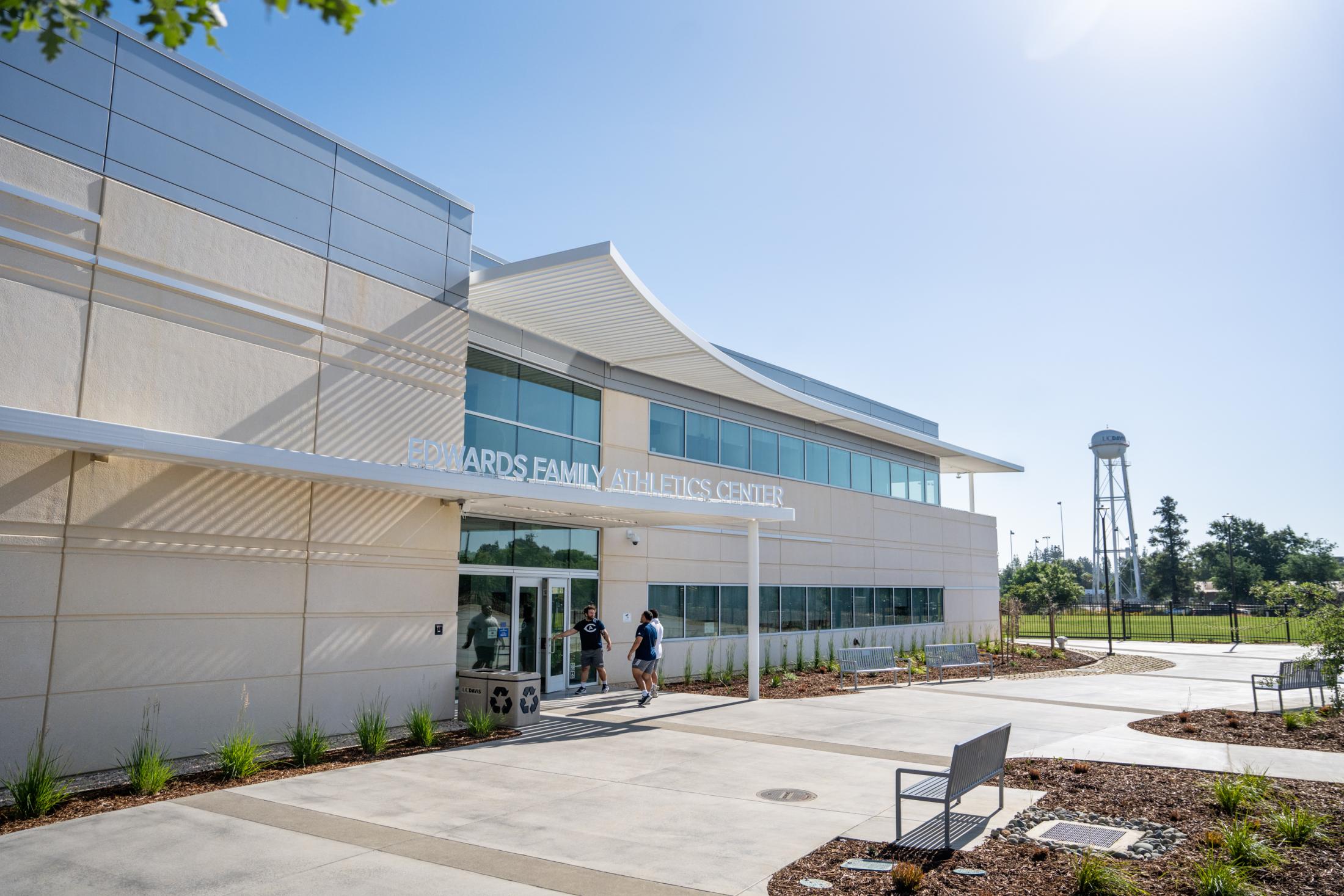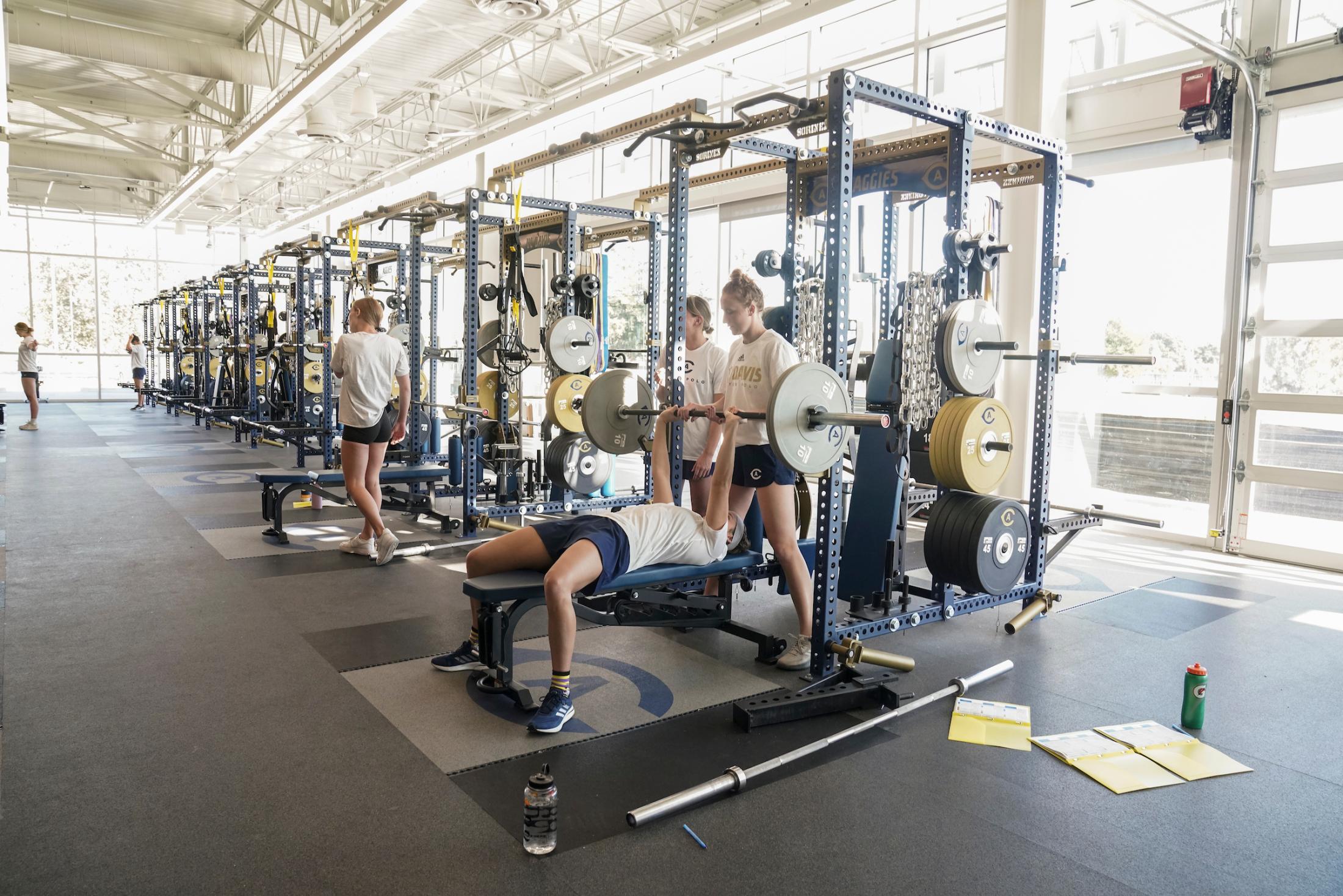 Similarly, UC Davis Athletics had a vision for a facility to support student athletes across all varsity sports, with strength and conditioning, sports medicine, and team spaces. The lead donor for this project was the Edwards Family. Bruce Edwards played football and ran track for UC Davis and has been passionate about sports and the Aggies all his life.
In addition to his generous donation, Edwards also attended design meetings and monthly walkthroughs of the site while it was under construction.
"Bruce was there through every step of the process," Carroll said. "His construction experience gave him confidence and a deep understanding of the project."
The Edwards Family Athletics Center opened September 2022 to support student athletes with a larger weight room, a UC Davis Health sports medicine clinic, team suites and more.
Advancing agricultural sustainability
In the case of the latest major gift toward new construction, the Resnick family approached UC Davis with an idea for a facility that revolves around advancing agricultural sustainability. This idea blossomed into the Resnick Center for Agricultural Innovation, which Lynda and Stewart Resnick are supporting with a $50 million gift.
"UC Davis is at the forefront of tackling climate change, developing groundbreaking technologies and solutions to reduce our collective carbon footprint, and creating a more sustainable agriculture system. This gift aims to help our greatest scientific minds rise to the great challenge of our time — the sustainability of our planet for future generations," Stewart Resnick said in a UC Davis article.
The facility will provide a centralized space supporting vital research being done by College of Agricultural and Environmental Sciences faculty and students around campus. The center will include classrooms, labs, advising, flexible workspace and gathering spaces for students – including the Wonderful Scholars, an outreach program by the Resnick Foundation.
"We wouldn't be able to have these cutting-edge, innovative facilities without significant gifts like these. It's very exciting," said Julie Nola, executive director of Capital Projects at Design and Construction Management.
Transforming generosity into groundbreaking facilities
It takes a lot of work from units across campus to transform donor gifts into exceptional spaces that serve the campus community and vision.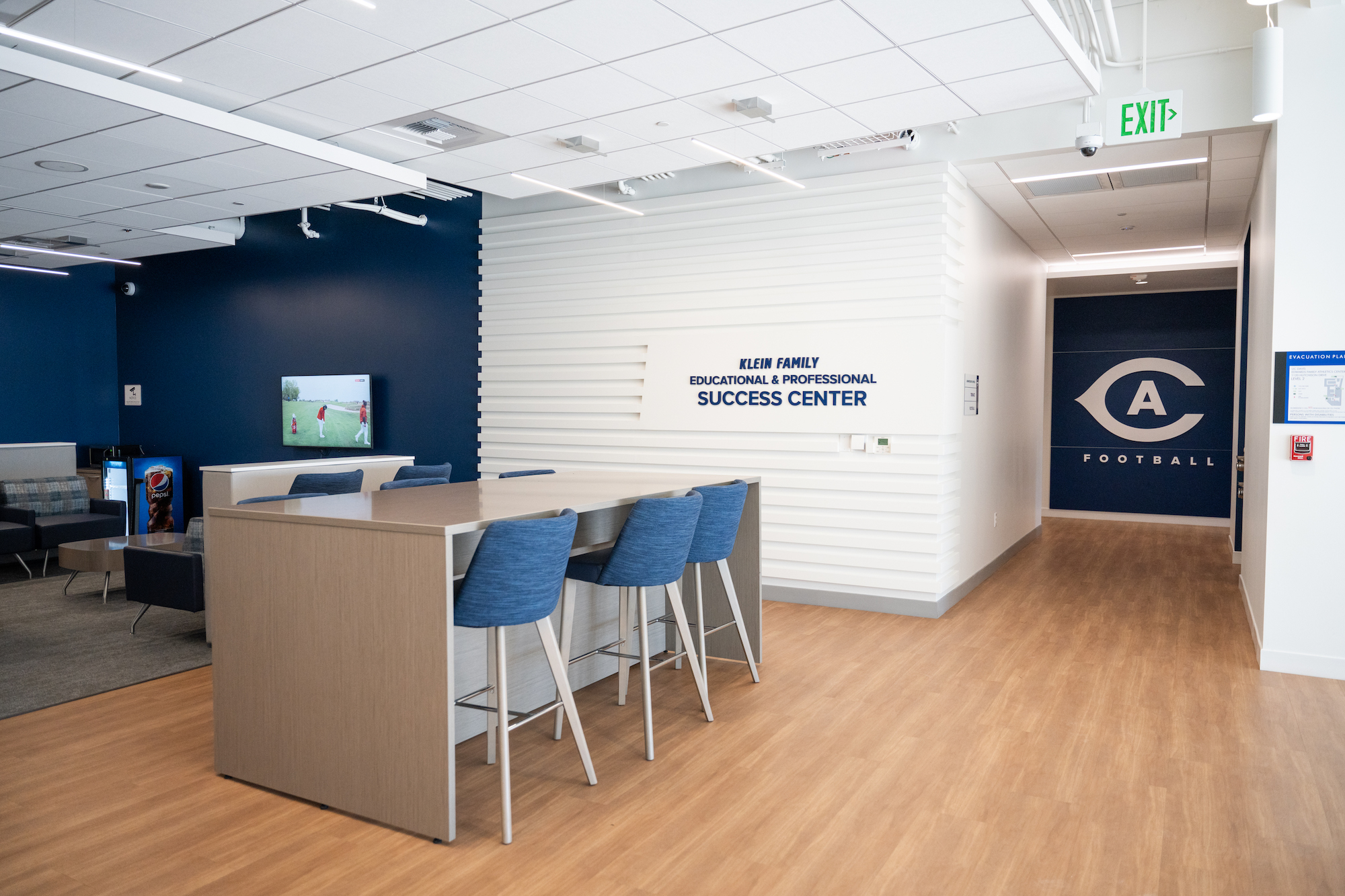 "When a donor is interested in making a significant gift and has an idea in mind, we have to ask: is this aligned with the university mission? Are we being good stewards? Are we doing right by future generations?" Nola said.
When a donor wants to support new construction the first step is figuring out what is "feasible," according to Keister. DEVAR conducts a feasibility study to figure out the potential scale of the project, determine how much of the project the lead gift can support, identify additional donors, find a space for the project and more.
"You may have a lead donor, but the office spaces, presentation rooms, and auditoriums are also supported by individuals or foundations," Carroll said. "These gifts are critically important as well."
Both the Edwards Family Athletics Center and the Diane Bryant Engineering Student Design Center saw many generous donors support the spaces inside. In the athletic center, you can find the Muir Family Sports Medicine Center, the Paul and Nancy Sallaberry Strength and Conditioning Center and more. In the Engineering Student Design Center, the Student Startup and Innovation Space, the Student Collaborative Project Zone, the Electronics & Rapid Prototyping Lab and many other spaces were supported by donors.
"Throughout the span of a project, from design drafting to ribbon cutting and beyond, a lot of people, including from DCM, Campus Planning and DEVAR, stay in touch with donors to make sure their vision is curated, cared for, understood, met and exceeded," Carroll said.
DCM is excited to continue collaborating with philanthropic supporters.
"Donors want to make a difference," Keister said, "To impact the students and the world."
If you're interested in supporting UC Davis students, research and vision, you can give at any level to the programs you feel most passionate about. Find out how at https://giving.ucdavis.edu/ways-to-give.
Primary Category
Secondary Categories
Tags