In Memoriam: Justin Hall
Celebration of Life
A celebration of Justin Hall's life is planned for 1 p.m., Friday, Oct. 8, 2021 at the Elks Lodge in Willows, California.
It was with a heavy heart that I share the news of Justin Hall's unexpected passing after an automobile collision early Monday morning.
Justin was the consummate professional, an experienced and balanced leader with a rare combination of expertise, patience and innate capability. We will miss his sense of humor, his hard work, his problem-solving attitude and his broad, winning smile.
Justin's loss will affect us all. While we struggle to understand and move on from this tragic event, please remember that UC Davis has support services that can assist during tough times such as this. The team at the Academic and Staff Assistance Program (ASAP) will support the DCM staff and all of those across the University that were touched by Justin's efforts over the years. Please do not hesitate to reach out to ASAP, and our peers at DCM.
His wife Aspen asked that we share his obituary below and, per her words, "I just know how much he loved everyone he worked with and I imagine they really cared for him too."
So true.
---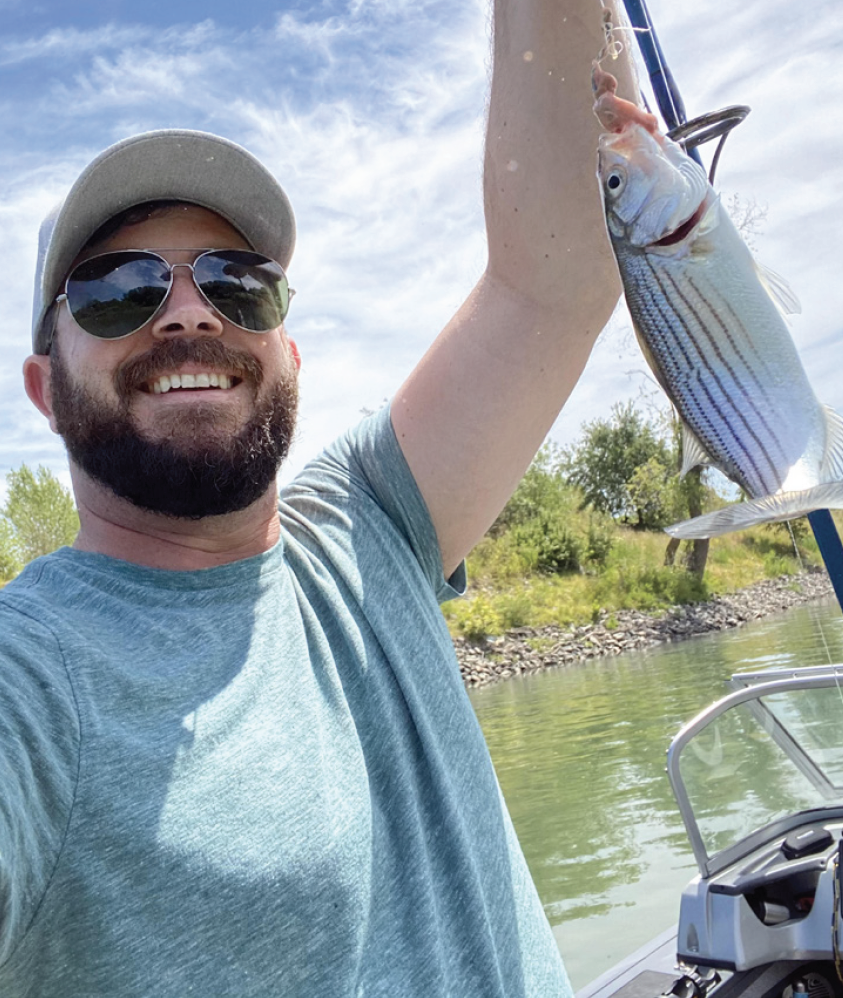 Justin Hall
Justin was born March 2, 1982 to Michael and Val Hall in Willows, California. Justin was soon joined by his younger sisters, Sara and Amy and was raised in Willows surrounded by family and lifelong friends. He had a childhood any boy would dream of, filled with BB guns, lizard snaring, and mischief, stories of which are still told by all that knew him as a kid. From his dad and grandfathers, he learned his love of hunting, fishing, and storytelling, from his mom, he gained his appreciation of really good food and decorating, all hobbies he enjoyed and pursued his entire life.
After graduating from Willows High, Justin moved to Chico as fast as he could. There he majored in construction management while also enjoying college life to the fullest. After college, he hung around Chico for a few years, enjoying his loft apartment at the gate of One Mile while working as an electrician for his Uncle Dan at Hall Electric. It was during this time that he and Aspen met on a blind date and they shocked (and probably scared) everyone by marrying five months later.
Shortly after, Justin began working as a construction manager at Kitchell CEM and they moved to Sacramento. He later went to work at UC Davis, ultimately as an associate director for their design and construction management team. Justin was proud of the many projects he worked on during his career and met so many colleagues that he admired along the way. While Justin loved to talk and tell stories any chance he could, there was nothing he was prouder of talking about than his children Juniper and Lawson. He was a fun, goofy, loving father that was generally the fun one. While he was terrible at helping with kid's laundry, he was excellent at bath time and the three of them could be heard laughing and playing most nights as he got them ready for bed. He was the very best daddy and loved his babies so much.
Aside from Juniper and Lawson, one of Justin's greatest accomplishments later in life was his beard. He was dedicated to its grooming and received compliments most everywhere he went. Justin lived for hunting and fishing. He took every chance he could to get out on the water. He went on many out of state elk hunts with his father-in-law Bob and brother-in- law, Dustin. He was planning a trip to Colorado this fall with his dad and some of the boys from Willows, which he was very excited about.
Justin loved life. He loved everyone he met and was the first person to give a hug, tell a story, or offer a beer. He loved to joke and laugh, often cracking himself up with his own stories. To know Justin was to love him. He had the most wonderful smile and gave the best hugs. He would wholeheartedly want anyone reading this to enjoy a beer in his honor.
Justin leaves behind his children, Juniper and Lawson, and wife Aspen. Father, Mike and stepmom, Cheryl, and his mother Val. His grandmother Pat Schmitke. His sisters, who he adored and loved so very much, Sara McGrew and Amy Pina. Sara's husband Russ and sons Trenton, Jake, and Cole. Amy's husband Rocky and daughters Ellie and Harper. His in-laws, who loved him like their own, Bob and Jan Cloud and Dustin and Kristin Cloud, as well as their children Ben, Kathryn, and Kaitlyn. Many aunts, uncles, and cousins that he loved so much. And friends too numerous to even attempt to list. He also leaves behind his beloved dog, Whiskey, his tolerated dog, Hazel, and his prized Tracker and Gregor fishing boats. He was proceeded in death by his Grandparents Richard and Pat Hall, James Lowden, and Gary Schmitke, uncle Brad Lowden, and cousin Tom Schmitke.